:: Mini Digital Camera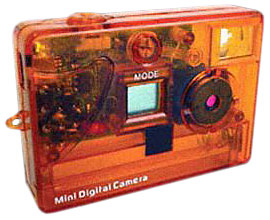 This entry level digital camera takes up to 24 pictures with its on-board memory and can be downloaded into any computer.

The MDC100 can also double as a web cam and take short video clips. The product is packaged complete with carrying case, USB cable, software, and instruction manual.




Its the Smallest Digital Camera in the world.
This fully functioning digital camera is absolutely tiny! It lives on the end of a key-ring chain and is smaller than a matchbox!

Digital still camera
The mini digital camera is simple to use, just point and shoot. You can choose from Low or High resolution and get 20-80 captured shots.

Once transferred to your PC, you can store and print the pictures of your choice.

Short Video Clips
One really neat feature of the mini digital camera is it can record short video clips.

The included software can then transfer these shots into your own digital movie!

Webcam
Powerful software is supplied to allow you to use the Internet to be face to face with your friends.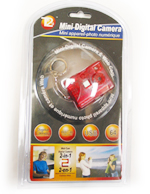 Sample Packaging.

The world's smallest mini digital camera comes complete with camera, 1 AAA battery, USB Cable, faux leather carrying case, manual and software.
5 Different Colours

Red

Green

Blue

Yellow

Clear
Features

Resolution
Hi 352 x 288
Lo 176 x 144
Memory
16Mb built-in (80 images)
Storage
Internal
Capacity
20 images in Hi Res
80 images in Lo Res
Focus
Fixed
Self-timer
10 seconds
Image Files
BMP & AVI (via software)
PC interface
USB
Weight
30g (without battery)
Dimensions
56 x 38 x 19mm
Compatibility
Windows 98(II), 2000, XP


View Sample


View Sample


View Sample